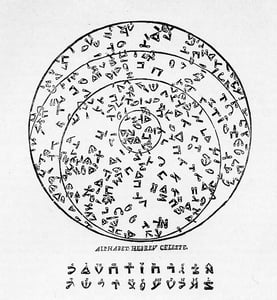 £

5.00 - On Sale
Strange Letters is the new single, taken from DWC's forthcoming second album "RAR" Released on 14th January and limited to only 100 copies, this will be the only physical release for this single.
In Strange Letters, Dead Wolf Club examine the Hebrew text of Genesis and its relationship to the alphabet. They show how each letter is both concept and gesture, with the form of the gesture matching the function of the concept. There is thus an implicit relationship between the physical world of function and the conscious world of concept. Geometric metaphor is the best framework for understanding the deepest meaning of the text.
Rabbinic tradition asserts that every letter of every word of the Torah is a word in itself. Each letter is also a hand gesture, and it is at this level that Hebrew forms a natural universal language. All people, including children before they speak and people without sight, make natural use of these gestures.